Spotlight on Australian Writers
Welcome to the world of wonderful Australian writers!  Each week a contemporary Aussie writer will be profiled on this page.  While some will be well known and honoured, others may be hidden gems. If you are, or know of, an aspiring Aussie writer, please contact me.
---
Liane Moriarty – November 19 2017
International Day for the Elimination of Violence Against Women – November 25 2017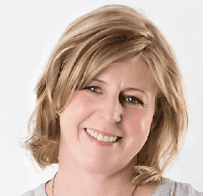 Liane is a best selling author of adult and children's fiction. After leaving school, she worked in advertising and marketing before working as a freelance advertising copywriter. Liane's first novel, Three Wishes, was written as part of her master's degree in creative writing. Her children's fiction includes The Petrifying Problem with Princess Petronella, The Shocking Trouble on the Planet of Shobble and The Wicked War on the Planet of Whimsy. Writing as LM Moriarty, Liane has also written the 'Space Brigade' series of books for children aged 7 to 12. Her other adult fiction includes The Last Anniversary, The Hypnotist's Love Story, The Husband's Secret, for which CBS Films has acquired the film rights, and Truly Madly Guilty. Both big little lies and Truly Madly Guilty reached number one on the New York Times bestseller list in their first week of publication – the first time this has been achieved by an Australian author. big little lies has been adapted as a television series and Nicole Kidman and Reese Witherspoon have optioned the film rights to Truly Madly Guilty. One of the main characters in Liane's first novel was emotionally abused by her ex-fiancé, a character Liane based on one of her own early boyfriends. "He wasn't physically abusive, just a very angry man. But I suppose I've thought a lot about it: if you don't have the physical side, just someone getting really angry, is that okay? And the answer is no." (Interview with Amanda Hooton, Sydney Morning Herald.) The oldest of six children, Liane grew up in a family that fostered more than 40 children. Her sisters Jaclyn and Nicola are also successful authors.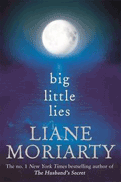 big little lies
Pan Macmillan Australia, 2014; ISBN 9781743530429
The internationally bestselling author turns her unique gaze on the dangerous little lies we tell ourselves every day and what really goes on behind closed suburban doors. 'I guess it started with the mothers.' 'It was all just a terrible misunderstanding.' 'I'll tell you exactly why it happened.' Pirriwee Public's annual school Trivia Night has ended in a shocking riot. A parent is dead. Was it murder, a tragic accident … or something else entirely? big little lies is a funny, heartbreaking, challenging story of ex-husbands and second wives, new friendships, old betrayals and schoolyard politics. 'Let me be clear. This is not a circus. This is a murder investigation.'
"The ferocity that Ms Moriarty brings to scenes of masculine sadism really is shocking." – The New York Times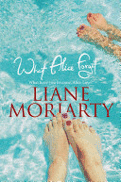 What Alice Forgot
Pan Macmillan Australia, 2009; ISBN 9781405038577
When Alice Love surfaces from a beautiful dream to find she's been injured in a gym, she knows that something is very wrong – she hates exercise. Alice's first concern is her baby, she's pregnant with her first child, and she's desperate to see her husband, Nick, who she knows will be worried about her. But Alice isn't pregnant. And Nick isn't worried. Alice is the mother of three children and her hostile husband is in the process of divorcing her. Alice has lost ten years of her life. Alice's sister Elisabeth, who seems uncharacteristically cold, drives her home from the hospital. And home is totally unrecognisable, as is the rest of her life. Who is this Gina that everyone is carefully trying not to mention? Why does her mother look like she's wearing fancy dress? And what's all this talk about a giant lemon meringue pie? In the days that follow, small bubbles of the past rise to the surface, and Alice is forced to confront uncomfortable truths. It turns out forgetting might be the most memorable thing that's ever happened to her.
---
Spotlight on Australian writers – Archives:
---