Spotlight on Australian Writers
Welcome to the world of wonderful Australian writers!  Each week a contemporary Aussie writer will be profiled on this page.  While some will be well known and honoured, others may be hidden gems. If you are, or know of, an aspiring Aussie writer, please contact me.
---
Faith Baisden – February 18 2018
International Mother Language Day – February 21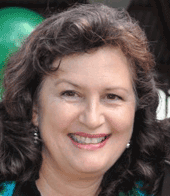 Faith has been involved with language projects for over 20 years in her own Yugambeh community. She is co-ordinator of the Queensland Indigenous Languages Advisory Committee and the Eastern States Indigenous Languages Working Group, and is a member of the Brisbane Writers' Festival Management Committee. Faith is also a director of First Languages Australia and is the Founding Director of Binabar Books, writing, illustrating and publishing books that can be adapted to include vocabulary from any Indigenous language. Other books in the Binabar range so far include Lenny and the Big Red Bag and Caring for Kiara. An added feature of these books is the inclusion of sound, picked up through an Audio Reader, to assist with pronunciation, but use of the sound feature is not essential.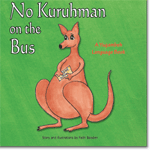 No Kuruhman on the Bus
Binabar Books, 2012; ISBN 9780980535976
2-6 years
This book combines a cranky bus driver with silly animal antics to teach little ones the traditional language names for some of the animals familiar to their area. Actions are incorporated into the story which has a strong performance focus and has been set to music. Currently available in:
Paakantji (Darling River region, NSW, including Wilcannia, Menindi and Broken Hill) – No Tharlta on the Bus and Yugambeh (Gold Coast/Beenleigh region) – No Kuruhman on the Bus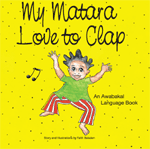 My Matara Love to Clap
Binabar Books, 2008; ISBN 9780980535969
2-6 years
This book helps young readers learn new language words for the parts of their body, in a rhyme that encourages movement and repetition. Currently available in:
Paakantji (Darling River region, NSW, including Wilcannia, Menindi and Broken Hill) – My Mara Love to Clap, Awabakal (Newcastle region, NSW) – My Matara Love to Clap and Yugambeh (Gold Coast/Beenleigh region) – My Danggan Love to Clap
---
Spotlight on Australian writers – Archives:
---